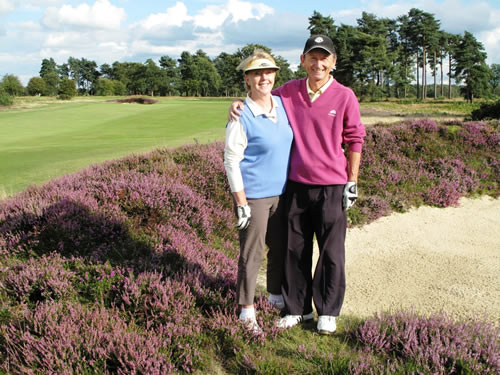 For 30 years, until 2001, David Worley was the Principal of his own Investment Advisory Company in Melbourne, Australia. In 1989 he was awarded the prestigious title of Investment Adviser of the Year for Australia by the industry magazine Money Management.

David was passionate about tennis until a persistent shoulder injury led to the hard reality that he would have to give up this great love.

Since university days David also had a love of history and had the desire to write.

Whilst constant tennis left little time for other sports, by good fortune, David had played golf on a limited basis since a very young age. In 1985 he joined Commonwealth Golf Club and became a very close friend of the late Bill Edgar.

Bill was a walking history of golf in Victoria from the mid 1920's and during this period he had built up a marvellous collection of golf photographs and anecdotes. As Bill's health deteriorated it became clear to David that someone needed to record this valuable information, especially since Bill had no children to whom this memorabilia and information could be passed on.

This led to the writing of Bill Edgar - A Legend in Amateur Golf in 1995. This was the perfect outlet for a combination sports and history book. Bill died 2 years after the book was published.

From the early 1990's golf became David Worley's new sporting passion and he gradually reduced his handicap to a low of 9 at Commonwealth.

Researching into golf history in turn led to the desire to visit the birthplace of golf - Scotland - which by good fortune was also the birthplace of his wife, Irene.

In 1996 David and Irene embarked on an extensive golf holiday through Scotland. As they were spending a few days at Wimbledon at the end of the trip, they decided that on the way south they would visit Cornwall. Here they discovered some magical courses especially along the two coastlines.

After reviewing the journey it became clear to David that they had learnt a lot from this trip and many back home were asking them advice as to where to stay, where to play, etc. With the idea of a book firmly in hand they set off for an even more extensive golf trip to the UK in 1998.

The second adventure started in Cornwall (after flying into Bristol rather than London) and then covered the west coast of Wales, Northern England and most of Scotland going to the very North East at Brora.

In all nearly 90 courses were played and, over the 2 trips, they drove 16,000 miles! The following year David wrote and self published "Fairways in Heaven, Bunkers from Hell" which was critically acclaimed (see Press Reviews). Even though the book was only available in about 8 bookshops, in March 2000 it was listed in the Melbourne Age newspaper as the number 8 best seller in the non fiction category.

Peter Thomson has been kind enough to write the foreword to each of David Worley's books.

A third visit to the UK, and this time also Ireland, was undertaken in 2003. By now David had played 126 courses and had revisited some for a second or third time. Links golf is the real reason for travelling to these places and although there are reviews of the top 40 or so, no-one has attempted to play and review almost every links course in England, Wales, Scotland and Ireland.

In 2006 a 3 month trip was completed which involved travelling almost the whole coastline of the UK (except for N W Scotland) and Ireland. David played or walked (mostly played) 97 courses in 90 days.

In 2007 Journey through the Links was published (by David Worley in Australia and Aurum Press in the UK and Nth America).

Journey has received many accolades, the most notable being awarded 'Golf Book of the year for 2007' by Sports Illustrated USA.

Journey sold out in about 4 months overseas but there are still copies available in Australia.

A fifth trip to Scotland and Nthn England took place in 2007 and a number of courses were re-photographed.

In mid 2009 David undertook a sixth golfing tour. Many links were re-photographed and a number of recently opened links courses were appraised.

These included Tom Doak's Renaissance near Muirfield, the Castle Course at St Andrews, Mark Parsinen's Castle Stuart near Inverness and the new Machrihanish Dunes on the Mull of Kintyre.

The trip also incorporated visiting the islands along the west coast of Scotland commencing in the far north in the Outer Hebrides. On the Isle of Harris there is the Scarista Links and on South Uist is the recently re-discovered work of Old Tom Morris at Askernish. The Isle of Arran alone contains 7 golf courses.

Three established links were overlooked in the first volume of Journey and each of these was played and photographed on the 2009 trip. They are Peterhead in Nth East Scotland and Seascale and Fleetwood in Nth West England.

A new and even larger volume (416 pages) Another Journey through the Links was released in July 2010 in Australia and November 2010 in the UK and Nth America. Another Journey through the Links includes 10 new courses (making 165 in total) and over 150 new high quality photographs together with updated information.

In April 2011 Another Journey was short listed for the 2011 Bristish Sports Book Awards in the category of Best Illustrated Title.

In 2015 David published "Golf in the Heather and Gorse" and in the future plans to write a fictional book in the style of PG Wodehouse centered around a mythical golf club in Southern England.

David Worley is currently a member of Commonwealth Golf Club, Sorrento Golf Club and is a Foundation member at Moonah Links.
No reviews or comments so far. Be the first.
Leave a comment